5 Places to Stay In New York For Every Budget
As one of the most diverse cities on the planet, NYC is also home to a range of accommodation options that can cater to every type of budget, from backpacker to bespoke travel. Whether you're looking to visit Manhattan's hidden gems, or the 'Top 5 Landmarks in New York City', any of the below accommodation options can serve as a great HQ for your NYC adventure.
Hostel: Chelsea International
Between £40 and £70 is all you need to stay at the Chelsea International Hostel, which was awarded the best NYC hostel in 2018 by Broke Backpacker. With a location that's close to the subway, this hostel makes it easy to explore New York at your own pace. The small but clean rooms come with Wi-Fi, free breakfast, lockers (although you'll need your own padlock), and even bike parking. A great place to meet and greet fellow budget travellers and exchange travel stories.
Budget Hotel: AKA Wall Street
Image credit: The Telegraph
The AKA is part of a series of establishments that is helping Wall Street shed its cold, grey image of being just a global financial centre. Apart from its location, what truly allows AKA to give travellers a genuine, executive New York experience is how each suite is designed as a fully-furnished, modern, and minimalist NYC apartment. Not only that, the hotel also specialises in putting guests in contact with NYC's resident experts for private classes, including dance and photography lessons, and even a physical training session with spine and posture specialist Amie Hoff – all for an average of £140 per night.
Mid-Range Hotel: The New York EDITION
At an average cost of £250 per night, the New York EDITION is redefining the meaning of mid-range NYC luxury for a lot of first-time visitors. Extremely elegant interiors – including a bar that's made entirely out of gold leaf – combine with a Michelin-star restaurant to provide visitors with a huge, introductory bite into the luxurious Manhattan experience. The EDITION is also known for its bespoke cocktails, and even its own brand of craft blond ale made especially for the hotel.
Luxury Hotel: The Whitby
As a general rule, the closer you get to the heart of Manhattan, the more expensive it'll be. Such is the case with The Whitby, which, apart from a prime location, also offers what The Telegraph describes as "a riot of rich, tactile fabrics," alongside sculptures, giant murals, and other museum-worthy decorations and furnishings. The reception even provides a brochure with details on each featured artwork. Spending a night here will cost you around £500 – expensive but still somewhat of a bargain considering the combination of fully serviced luxury accommodation with museum-quality artwork.
Luxury Apartment: Lauren Berger Collection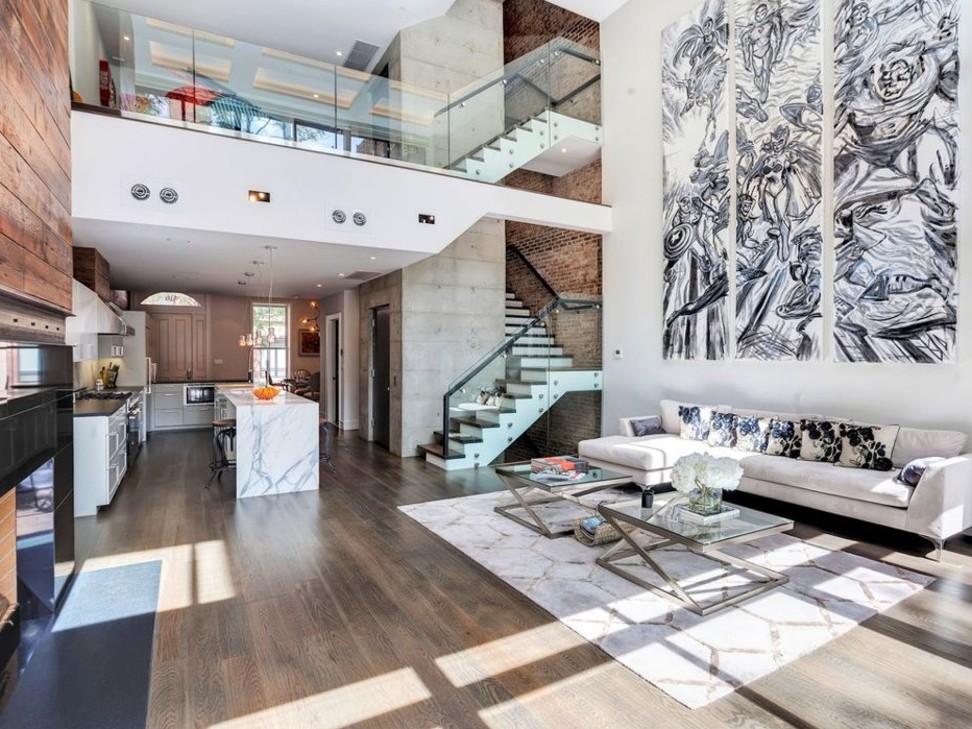 Image credit: South China Morning Post
This is without question the ultimate way to get to know what it feels like to be a Manhattan New Yorker. If spending upwards of £10,000 per night is not enough to even put a dent in your bank account, consider a luxury New York town house. In its feature on luxury holiday rental apartments, SCMP points to a £10,398.20 per night town house in Hell's Kitchen, NYC. This showplace residence by the Lauren Berger collection is a triumph of contemporary luxury interior design, complete with heated floors, as well as a games room with its own pool table, pinball machine, and even a beer tap. If you think this perfect weekend getaway is outrageously expensive, consider how much it costs to buy any sort of property in the heart of NYC. The prices have steadily increased over the past three decades to make New York one of the most expensive places in the world to live. Yoreevo notes how a million dollar (£774,425.00) NYC apartment in 1989 has now increased in value by 100%. This explains why it's so expensive to rent in the city, as well as why the standards of luxury here are on par with places like private chalets in the Swiss Alps or fully-serviced bungalows in the Bahamas.
These are just some of the many accommodation options from which you can start exploring New York City. Whatever your budget, the Big Apple has good accommodation in the heart of the city that is perfect avid explorers.
Law graduate and wanderlust sufferer. I like rum and beaches.
Latest posts by Krissy Georgiadis (see all)